Nastassia Khilkevich
Property Litigation Solicitor
Where are you from?
I am from Belarus where i gained a degree in Economics.
When did you qualify as a lawyer?
I qualified in 2013 as a legal Executive and 2016 as a Solicitor.
What's your background?
In addition to her legal qualifications, Nastassia has a first class degree in economics and exceptional business acumen, and her passion is resolving disputes in the most pragmatic way and finding solutions that are not only legally sound but make business sense too. Nastassia always seeks to employ her negotiation skills and smart strategies to avoid or shorten expensive litigation wherever possible.
What areas of law do you specialise in?
My areas of expertise include; Contract disputes, commercial injunctions, property litigation, debt recovery proceedings and enforcement, boundary disputes and professional negligence actions.
Additional highlights
Nastassia also has specialist knowledge to advise and defend clients faced with an investigation or enforcement action by a local authority, including for breaches of health and safety, housing, planning laws and statutory nuisance.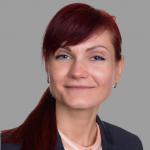 Practice Areas
Commercial
commercial injunctions
Dispute Resolution
Landlord & Tenant
Property Litigation