Duncan Gillespie
Corporate & Commercial Solicitor
Where are you from?
Greenock, Scotland.
When did you qualify?
I qualified as a Solicitor (in England and Wales) in September 1998. I am also in the process (I hope) of qualifying as a Solicitor in Hong Kong.
What's your background?
I graduated from Strathclyde University in Glasgow with a BSc (hons) in Mining and Petroleum Engineering in 1986. On graduation, I began work in IT with Midland Bank (subsequently acquired by HSBC) in Sheffield.
I stayed with the Bank for 10 years and enjoyed it, but after a time began to feel that my interests (and abilities) lay elsewhere so I began part time study at Nottingham Trent University for the Graduate Diploma in Law.
I completed my legal studies in 1996 and joined Dibb Lupton Alsop (latterly DLA Piper) as a trainee solicitor at their Sheffield office. After completion of my training contract in 1998, I moved to DLA's London office where I specialised in technology law and latterly EU and competition law. I was a Partner in DLA Piper between 2006 and 2014, specialising in all aspects of EU and competition law.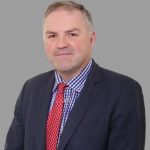 Practice Areas
Commercial
Data Protection
Dispute Resolution
EU & UK Competition Law
Information Technology