Ighodaro Edokpolor
Partner, Litigation
Background
Ighodaro Edokpolor is a distinguished legal professional with dual qualifications as a solicitor in both the Supreme Court of Nigeria and the Supreme Court of England and Wales. Since first earning his qualification in Nigeria in 1995, he has built an accomplished career in the field. A passionate advocate for justice, Ighodaro enjoys engaging in discussions about the law when he's not practicing it. In his scarce free time, he is an avid football fan and takes a keen interest in studying politics.
Admissions
October 2006 – Admitted CEDR Accredited Mediator.
January 2005 – Admitted as a Solicitor of England and Wales.
March 1995 – Admitted as a Solicitor and Advocate of the Supreme Court of Nigeria.
Practice Areas
Ighodaro has over 27 years combined practice experience, specialising broadly in dispute resolution which includes civil and commercial litigation, financial disputes, asset recovery, contract disputes, lease/tenancy disputes, business disputes, family/partner assets disputes, and wills and probate disputes.
He also accepts instructions in Immigration and Nationality matters including First Tier and Upper Tribunal appeals and Judicial Review applications in the High Court, and in  further appeals.
Education
Master of Laws (LLM)  – Queen Mary University of London (QMUL)
 Bachelor of Laws (LL.B) Hons – University of Benin, Nigeria.
 Barrister at Law (BL) Nigeria – Nigerian Law School, Lagos Nigeria.
 Member of the Law Society of England and Wales.
 Member of the Nigerian Bar Association.
Highlights
Ighodaro has had the exciting privilege of acting for a vast number of individuals, companies, and organisations in both the United Kingdom and abroad in his areas of practice across over 27 years practice.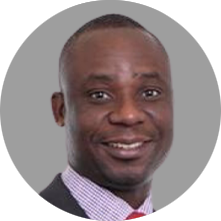 Practice Areas
Wills/Probate Disputes
Civil/Commercial Disputes
Spouse/Partner Financial Remedy Disputes
Asset Recovery
Immigration