Hannah Durston TEP
Private Client Solicitor
Background
Hannah is a native of Cornwall and received her school education in Dorset. Subsequently, she earned a BSc in Psychology from the University of Southampton. After her university education, Hannah chose a legal career pathway, embarking on the law conversion course at Kingston University. This was succeeded by her participation in the LPC in Guildford. After kickstarting her career in Kent, where she qualified and dedicated the initial 12 years of her profession, Hannah decided to return to her roots and now resides in Newquay, Cornwall. She moved back in June 2021.
Admissions
Hannah qualified as a Solicitor in September 2011. Her motivation for entering the legal domain was to support individuals, especially during challenging periods in their lives.
Expertise
Hannah's domain of expertise lies in Private Client law. Her portfolio includes Wills, Powers of Attorney, trusts, estate planning, capital tax advice, Probate/estate administration, and Court of Protection services. A standout quality she possesses is her exceptional communication aptitude.
She has a knack for elucidating intricate legal aspects in a digestible and relevant manner for clients from diverse backgrounds and life stages. Her dedication is evident in the bespoke advice she delivers to help clients realise their aims. Hannah approaches every case with empathy and an open-minded stance, understanding that many clients seek her expertise after experiencing pivotal life changes.
Highlights
Hannah was distinguished as the Kent Law Society Junior Lawyer of the Year in 2015.
While Hannah's legal field does not commonly spotlight 'notable cases', her professional milestones revolve around ensuring client satisfaction. A particular instance that she recalls with pride is her role in representing an Attorney under an EPA in Court of Protection proceedings. Here, she triumphantly advocated for the realisation of his father's preferred living conditions, in line with his wishes, rather than succumbing to the preferences of the local Council.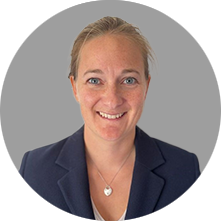 Practice Areas
Estate planning
Court of Protection